Frequently Asked Questions
Vivera's Thermoselect technology is an environmentally superior waste processing system incorporating pyrolysis and gasification technology that converts waste into clean energy and commercially useful products.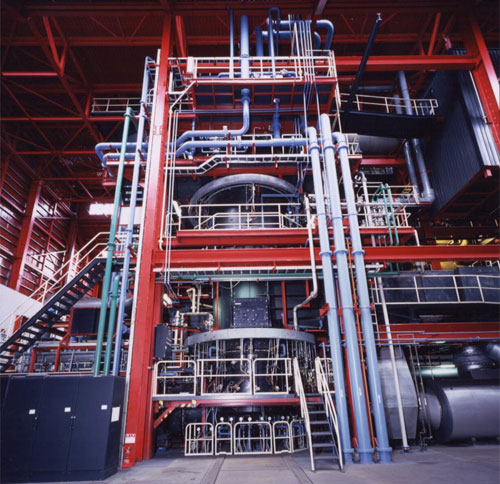 Below are a few frequently asked questions about pyrolysis, gasification, and the Thermoselect process.
What waste processing technology does IWT use?
Vivera's Thermoselect technology incorporating pyrolysis, gasification, and gas and water cleaning processes to convert waste into clean, energy-rich synthesis gas and commercially useful products.
How does pyrolysis and gasification work?
Pyrolysis technology processes waste, in the absence of air, using heat to produce steam, a carbon char material and synthesis gas.
Thermoselect gasification technology using controlled amounts of 95% pure oxygen (not air) converts the char into synthesis gas. Glass and metals contained in the waste are melted, cooled, collected and sold.
The gas cleaning system removes particulate matter and sulfur from the synthesis gas. The particulate matter is returned to the high temperature chamber and the sulfur is sold.
The water cleaning system removes other metals in the form of zinc concentrate and chlorides in the form of industrial grade salts. Both are sold.
Why use the Thermoselect technology?
​Has operated successfully in nine facilities, the first beginning in 1992.
It is a proven, commercially available technology. "The only true gasification process at an industrial scale is the Thermoselect process…" Columbia University Professor – Nickolas J. Themelis, Waste Management World, "Thermal Treatment Review", August 2007.
Recycles 100% of the waste it processes into commercially useful products. No ash is produced. No landfill is required.
It is a closed-loop system with no air emissions or waste discharges.
Offered in modules with a capacity of up to 396 tons per day. Larger facilities include multiple numbers of modules. The modular concept increases availability.
Synthesis gas can be used to generate electricity or to manufacture alternative fuels such as ethanol, methanol, gasoline, or clean diesel.
Can process a variety of wastes including municipal solid waste (MSW), commercial, industrial and E-wastes, sludges and tires.
Significantly reduces greenhouse gas emissions.
Cost competitive with other modern thermal treatment technologies.